Terminals
Naviset GT-20 PRO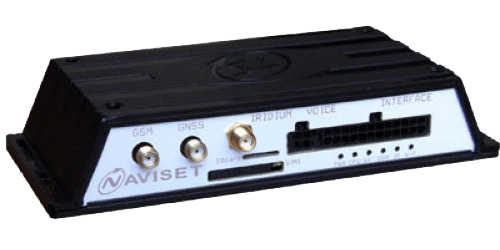 Device Naviset GT-20 PRO decision for the strictest user. Worked out for application in the spheres of control of motor transport, expense of fuel and guard. Ministry of Transport conforms to the requirements of Order Russian FEDERATION from July, 31 2012 № 285 «About claim of requirements to facilities of navigation, functioning with the use of navigation signals of the system GLONASS or GLONASS/GPS and intended for the obligatory equipment of transport vehicles of category of M, used for commercial transportations of passengers, and category of N used for transportation of dangerous loads»
Area of applicability
Passenger and freight motor transport
Automobile motor transport of organizations and private persons
Agricultural and building technique
Taxi stationes and delivery of loads services
Guard enterprises
Municipal utilits
Small aviation
Water-carriage
Railway transport
Military transport
Services of the rapid reacting
Using NAVISET GT-20 PRO, you will be able
To operate any data got from any source. Absolutely any data can be placed in a cell (register) for a further analysis, change, comparison or transformation.
To connect a device to the different programs of monitoring (Wialon, Omnicomm, Navixy, Fort, AutGRAF, STMatix, ST CrossPoint, ЕНДС-ФИЦ of and other)
To change configuration and device software through any accessible communication channel — USB / GPRS / WiFi / IRIDIUM and other.
Evidently to see a run and time of work of machine
To keep data in a device more than 6 months
Repeatedly to increase memory (microSD)
To control priming and expense of fuel (analog, impulsive, frequency, digital sensors)
To see the last name of driver
To get pictures from a video camera
To apply 2 SIM- of map or 2 SIM- of chip (option) of different operators
To manage the state of guard and to block an engine through SMS and voice menu
To know a temperature in refrigeration unit and on the axes of engines (to 8 sensors)
To connect a device for bilateral connection with a crew (headset of loud connection of HF — 1)
To create automatic notification of stop points
Free of charge to pass information through open access of Wi points — Fi (optional)
To get information with CAN- of tire (FMS, J1939, J1979)
To connect Can — log
To decide the most various tasks of client
To pass data through the satellite channel of IRIDIUM or WiFi of network.
Descriptions
| | |
| --- | --- |
| Amount of universal entrances (expansion to) | 8 (12) pieces |
| Amount of exits (expansion to) | 4 (0) piece |
| Volume of black box, points | 650000pieces |
| Support of SD of maps (autoinformant, add.black box) | Is |
| Possibility of connection of display of driver, support of voice and headset of loud connection of HF-1 | Is |
| Maintenance WiFi, Bluetooch, IRIDIUM, GLOBALSTAR | Is |
| Interface RS232 | 2 piece |
| Gyroscope for inertial guidance | option |
| Amount of points of autoinformant/of phrases | Unreservedly |
| Amount of the influenced logical events | Unreservedly |
| Amount of registers of data with CAN of tire | Unreservedly |
| Amount of registers of data with MODBUS of tire | Unreservedly |
| Connection of external periphery | By all available |
| Per second record of data at the sharp braking | Is |
| Communication of data on two servers and support of e — Call | Is |
| Function of programing logical inspector | Is |